Feb
25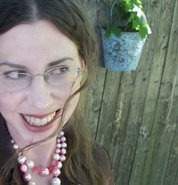 I find that watching a video on a felting project is one of the best ways of learning this craft.  You can pause or rewind if you miss something.   So get yourself a cup or glass of your favorite beverage, relax and learn.  Marysusan Noll West Sayville, NY, United States I located this video on Marysusan: All Good Girls are Mary, blog and the Video is curly-que.She tells: I thought that it would be fun for me to start filming a series of tutorials on some basic felting techniques. So here is the first in that series: How to wet felt a curly-que, just like the one you see here!These little curls are really useful as embellishments or as fun elements in larger pieces; I use them all the time. Besides, they are a great place to start because they work up quick, don't take much roving, and they are just as whimsical as all get out. They can take something that is kind of ho-hum and elevate it. They can also be just the thing to add a touch of the organic to a piece that is feeling a little staid or static.I hope you enjoy part 1 of this tutorial, part two and three as follows:
Part 3: Still in the works.
Mary Susan also has a diverse ETSY shop: Â 
 
You may also like...
Comments