Mar
2
Each season designers are coming up with some of the most stunning felted items.  What I am showing today are for your home and I want them all.  All the items are Eco-Friendly and beautiful.  Check out ETCETERA and be impressed!
ETCETERA MEDIA is a design studio based in Boston, Massachusetts. We are pleased to announce the launch of our new line of felt bags and home goods. 
ETCETERA MEDIA was founded in January 2005 by Boston-based designers Kelly Smith and Chris Grimley. ETCETERA'S products include tote and shoulder bags and accessories for both men and women. Each bag or case is designed with the intention of protecting digital products such as laptops, cameras and music players. Described as "simple, modern . . . a designer bag for designers," the collection uses contemporary materials to create clean shapes that are tactilely appealing. Thick industrial wool felt is combined with high-quality Knoll textiles and makes the interior patterns a pleasant surprise from the simplicity of the exterior form.
Made from naturally renewable and recyclable materials, this wine rack holds up to six standard wine bottles and collapses flat to store easily. 100% wool felt. Made in Massachusetts. Approximately 17" x 5" when flat….
·         Bun Bowl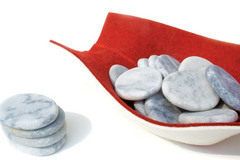 A small reversible dual-colored felt bowl. The Bun bowl is great for neatly collecting little objects around the home or office. Available in four color options. coal and white felt with charcoal stitching. Red and white…        
A large reversible dual-colored felt bowl. The Loaf bowl works well as a container for fruit, bread and more. Available in four color options. Charcoal and white felt with charcoal stitching.Red and white felt with…
t

Practice your maths at the table! This set of 5 die-cut industrial felt coasters comes in four reversible color options and will bring out the young student in you and your guests. Charcoal and white…
·        
By Linda Lanese
You may also like...
Comments