Apr
4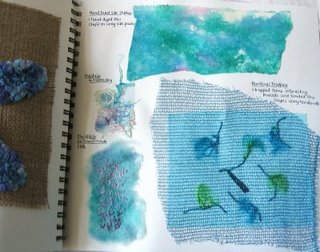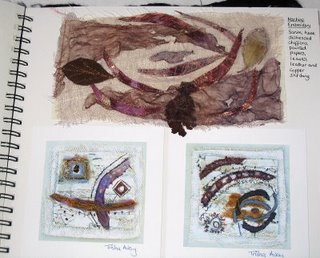 As I looked through Carolyn's blog "CAROLYN SAXBY-mixed media textile art" at all her stunning felting and fiber art I was inspired by pages out of her sketchbook.  What an amazing idea, I thought!  Although most board artists have sketchbook, I'd never thought of keeping one on my fiber art.  I just do rough sketches on paper and these sheets get lost or thrown away.  Look at the above pictures at two of the pages out of her book and tell me this is not tidy and charming. If any of you are this organized, let me know.  I am not organized and maybe Carolyn has given me inspiration to change my disorder into order.  Please visit her site and look over all her awesome art and tell her you found her on Craft Gossip Felting.
Carolyn is a textile artist/designer living in Cornwall UK with her hubby in a beautiful cottage by the sea. She is inspired by nature – seed heads, berries, hedgerows, woodlands, coast paths, seascapes, seaweed, pebbles and blackbirds
Her style is "country" – lots of creamy white and natural colors with touches of RED. I love small collections of things neatly arranged, beautiful art, ceramics and hand crafted goodies
By Linda Lanese
You may also like...
Comments