Apr
13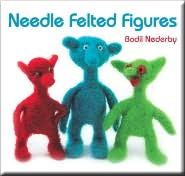 Thank you all for entering our package giveaway! It's so very hard to pick winners in any of our giveaways and we depend on random.org to pick the winners. I wish you all could win! Sheryl is our winner and we want to congratulate her.  Sheryl has a blog called Mom Knitter and I think if you dropped by her site you will see some interesting postings.  Sheryl is a mom, a wife, a knitter, a spinner and homemaker. We hope Sheryl makes something cute from the book and the wonderful starter needle felting kit that was so generously donated by Wild Wool Farm and the book "needle felted figures" was donated by SEARCH PRESS.
Stay tuned for our next giveaway, it is going to be felting kits.
By Linda Lanese
You may also like...
Comments