May
8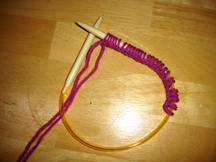 I received the circular knitting needles and one set of double pointed needles from eknitting needles.com today and I am beyond impressed! The needles themselves are like touching silk and the tube "as shown in the picture" are very substantial and not like my other circular needles where it has the wire cable.  I cast on a few stitches and took a picture to show you how lovely they are. As you know, I am holding the circular needle giveaway and eknittingneedles.com is also offering my readers a special discount. I did buy my needles and I intend to use the discount and purchase some more right away. This is an opportunity I do not want to pass up. I bought the 16 in circulars and I am going to get another set in another size for larger projects. This way I can use the coupon and get the free shipping on my $15 purchase.  I encourage you all to take advantage of this amazing value while the contest is being held. I intend to knit the evening away. So check out the circular knitting needle giveaway again to get your code and get over to eknitting needles.com and pick up the needles you need.  Here is the link for the giveaway:
http://felting.craftgossip.com/2009/05/01/giveaway-a-set-of-15-circular-knitting-needles-by-eknittingneedlescom/
By Linda Lanese
You may also like...
Comments