Jun
27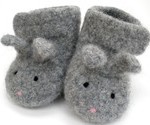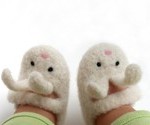 Here is a cute video tutorial on YouTube on how to felt baby booties.  Visit Lacey's PrettyLittle's ETSY shop and see all her wonderful felting. Lacey is 24, and lives in beautiful Portland, Oregon. She is a self taught crocheter and felter, inspired by all the adorable children she has cared for as a nanny and big sister.
She tries to be as nice to the world around her as possible: She does not drive, recycles religiously, eats natural foods, uses biodegradable products, energy efficient lighting, and powers her apartment with wind energy. So we can say that PrettyLittle is an eco-friendly business.
You may also like...
Comments