Oct
29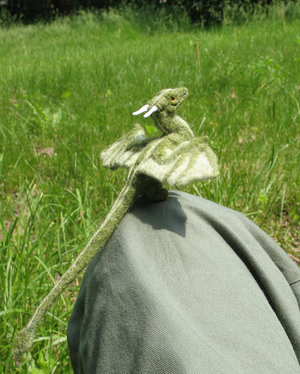 There are so many incredible artists on deviantART and I love to introduce them to you.  This young person made this life-like Needle Felted Green Dragon for their mother and I think they did an amazing job. They tell us just how she made it.  Artist's Comments: This is a very small needle felted dragon that I made for my mom, who wanted a dragon that could sit on the hand of a Super Dollfie. He also sits great on my fingers! More pictures of this guy to come as I take them. Needle felting, for those unfamiliar with it, is a technique that uses special barbed needles to essentially create a 'wool sculpture'. It's the same way they make the felt you buy in stores, except that by only using one needle at a time and adding wool as you go, you can control the shape of the felt. I'm still a beginner, but I'm working at it!
He is made out of natural wools from the Iron Horse Farm, a local fiber farm, and the Flying Ewe, a fiber arts website. He has a wire understructure through most of his body that makes his wings, legs, and tail moderately pose-able–the tail is extra long so that it can curl around the finger it's sitting on. He's got glass eyes held in by glue and wires, and his horns are made out of wire covered in epoxies sculpt, topped with acrylic paint and matte varnish. The wing membranes are actually white store-bought felt, which I then added a thin layer of pale green wool to. I thought it would make it stronger that way.
You may also like...
Comments