Nov
19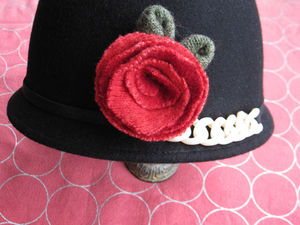 Edie of Edie's Fashion Factory posted this wool flower how-to on Cut-Out+Keep .  She offers you complete instructions and I think you will be happy with the results.  Edie says: I love finding a use for every last scrap of fabric in my project pile. Here's a bit of dyed wool leftover from a recon'd sweater creation.
Now it's a happy little rose on my bowler of choice this season! With all due thanks, I based my flower on June Pfaff Daley's sweet sweater rosettes tutorial. Be sure to take a peek 'cause her flowers are truly adorable! Become a fan of Edie's Fashion Factory on Facebook.
You may also like...
Comments