Sep
9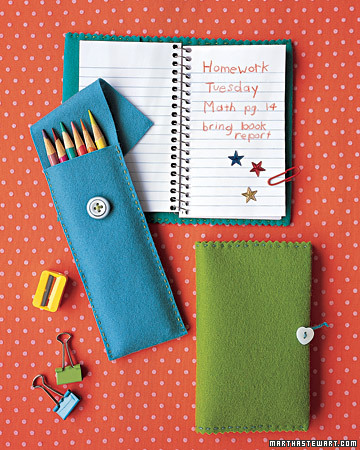 Make these cute pencil cases for the children or have them help.  They can personalize them and pick some wild colors.  One comment on the site suggested making them out of wool felted sweater, which is a fun idea and going green.  Get all the how-to's on Martha Stewart Living.
To make a pencil case, cut a 2 1/2-by-18-inch rectangle of felt; fold up bottom 6 inches. To sew, use embroidery thread and a needle with a large eye. Stitch up the sides with a running stitch: Pass needle up from back to front, then reinsert needle to back; repeat making short stitches. Finish with a knot in back. Fold over flap; add a button, and snip a buttonhole. To cover a 3-by-5-inch notebook, cut an 11-by-5 1/2-inch rectangle of felt with pinking shears. Center open book on felt; fold ends over covers. Sew top and bottom edges with a running stitch. For a closure, sew a button to front and add a thread loop to back.
By Linda Lanese
You may also like...
Comments