Nov
3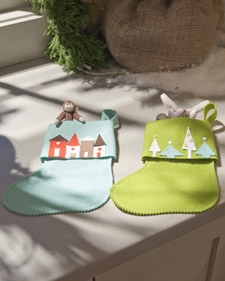 Martha Stewart has the cutest felt stockings for you to make.  These festive felt stockings are a simple-to-sew craft perfect for decorating your home or giving as a gift to family and friends.  Watch the video or download the pattern and make up these little stockings.
Tools and Materials, Stocking template, Disappearing-ink marker, Pins, Felt (in assorted colors)
Scissors
Needle and thread
Pinking shears
Fabric glue
By Linda Lanese
You may also like...
Comments