Jan
5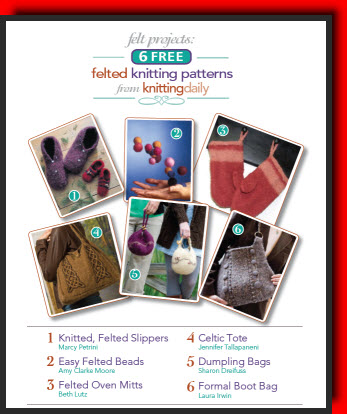 This is an awesome find from Knitting Daily!  Just enter your email and download 6 FREE delightful felting patterns.  I knitted the Dumpling Bag and it is adorable.  Make it in bright red for Valentine's Day or green for St. Patrick's Day.  The oven mitts would brighten your kitchen during the winter.  You will get the following FREE patterns:
1 Knitted, Felted Slippers
Marcy Petrini
2 Easy Felted Beads
Amy Clarke Moore
3 Felted Oven Mitts
Beth Lutz
4 Celtic Tote
Jennifer Tallapaneni
5 Dumpling Bags
Sharon Dreifuss
6 Formal Boot Bag
Laura Irwin5
By Linda Lanese
You may also like...
Comments