Jan
6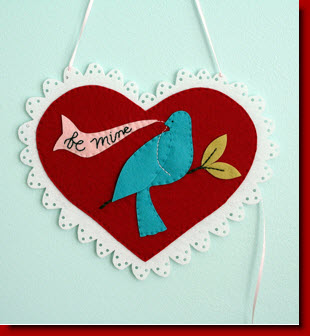 What a cute Valentine tutorial posted on "Sew Mama Sew" by Melissa of "Checkout Girl": If you want to return to the days of hand-crafted valentines meant to be kept as mementos for years to come, here's the tutorial for you! It's simpler than it looks (which is always a good thing), and its wool-feltiness and hangability mean it'll never end up in the recycling bin.
Materials:
1 piece of stiffened craft felt (12X18")
1 piece of red wool felt
1 piece of blue/turquoise wool felt
scraps of wool felt in pink and pale green
(You can substitute the colors of your choice, of course, and you can use craft felt if that's what you have on hand.)
1 foot of ribbon (for hanging—optional)
a few pins
needle
brown embroidery floss
black embroidery floss
pink embroidery floss
blue/turquoise thread or floss
green thread or floss
red or white thread or floss
a sharp pencil
sharp scissors
hole punch or screw punch (optional)
spray adhesive (optional)
By Linda Lanese
You may also like...
Comments