Jan
11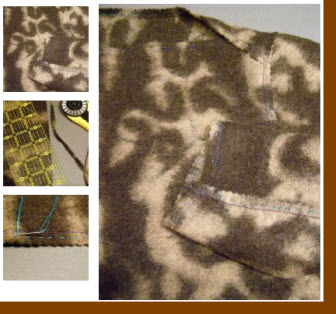 Kenneth D. King, couture designer, believes that flawless finish shows that he is master of his materials.  Kenneth is a Threads Magazine contributing editor and shows us how he felt and redesigned a wool sweater fabric. When he went off to camp after the holidays, and while the fashion bar is set really low there, he wanted some spiffy new clothes. He found this felted wool jersey fabric at one of his suppliers, and thought it would make a good sweater.  Kenneth D. King is a man of many talents. He's a professor at F.I.T. (Fashion Institute of Technology) in Manhattan, a couture designer, and a Threads contributing editor.
Not long ago Kenneth showed up on an episode at Threadbanger. The theme was Oscar Week and Corinne and Rob, the hosts, featured the film "The Duchess." In keeping with the theme, Kenneth chose a black velvet cloak project. In this video he demonstrates how to take a pattern from an existing garment and then gives some very useful tips about sewing with satin and velvet, using a walking foot, and pressing velvet.  Here's your chance to attend a class by the King for free.
By Linda Lanese
You may also like...
Comments