Jun
12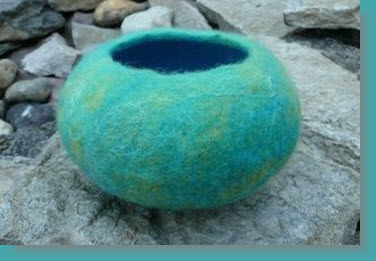 I do not know much about using resist in felting but with this in-depth tutorial by Lyn of "Handmade by Rosie Pink" I will give it a try.  This tutorial will show you how to make a 3D felted pod using a resist. A resist is usually a piece of thin plastic and is put between two layers of wool to prevent them from felting together. If you haven't made felt before, please take a look at their 'beginners felt making tutorial' as this pod tutorial presumes a little knowledge of basic wet felt making and the simple materials you will need.  The resist they are using is a circle 17cms in diameter cut from a roll of laminate flooring underlay, but you can use any thin plastic to make your resist.  Place your resist on a piece of bubble wrap on a suitable work surface.  Every picture in this tutorial is worth a thousand words. I want to thank Lyn and her Mom for sharing this amazing tutorial.
Resist felting is used to create shaped pieces with no seams, such as hats, socks and bags. A 'resist' or form is used to create the felt and after the basic felting is done, but before the 'fulling' step, necessary holes are cut to remove the resist. Fulling is part in the felting process where the majority of shrinkage occurs and where the felt becomes more dense and stable.
You may also like...
Comments