Aug
7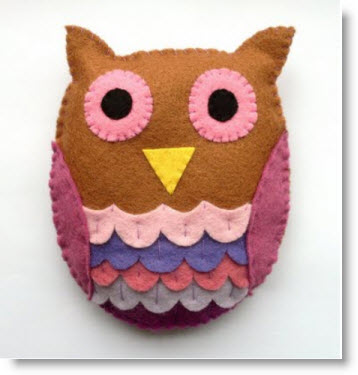 It appears we are all Owl crazy and here is another sweet Owl tutorial from Laura at "Bugs and Fishes". The host and artist is Laura "Lupin" Howard, lives in England who likes to make and do. She admits she is completely obsessed with felt.
She has been selling her work online as Lupin Handmade since 2007. She sell handmade felt brooches, flower headbands, animal masks and other fun stuff in her online shops plus lots of felt squares and other colorful craft supplies. She also has shops on Etsy, DaWanda and Folksy. All her felt works is 100% hand stitched, and all pieces are cut by hand from her own original patterns. No mechanized cutters, no sewing machine and definitely no glue – just Laura and her scissors and a needle and thread. When she is not making things; then she is usually writing about making things. Her first book – Super-Cute Felt, – has just been published by CICO Books. It's now available to buy from Amazon.co.uk and to pre-order from Amazon.com (US publication date: 30th September). You can also buy signed copies from her website. Thanks Laura for your awesome tutorials.
By Linda Lanese
You may also like...
Comments