Jun
1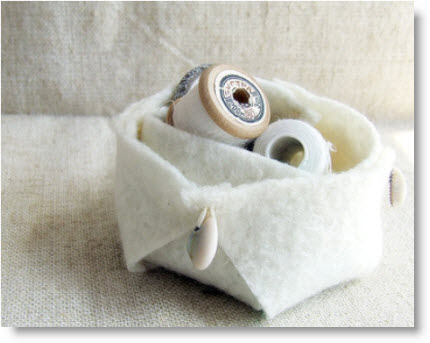 Iryna is from Russia but now lives in the US and is still learning the language here; but it surely has not altered her sense of style and creativity. I have seen some of the loveliest designs come out of other countries around the world. This tutorial was shared with Iryna by Lena who runs Baymut shop on Etsy. "Lena made a piece of felt herself, but you don't need to struggle with it if you don't felt.

You simply can buy a pre-made sheet of felt in a crafting store such as Michaels", explains Iryna.  This Felted decorative basket tutorial is so pretty and could sit beautifully next to a chair on a table for those TV nights when you need to mend something.  Use any color to match your décor because it looks like a piece of art. This would also make a fun key caddy for dad's Father's Day gift in a darker color and instead of decorating with shells, beads etc. use old car keys or sports charm. Go to "Irina's Cute Box" for the complete tutorial and pattern.  Thanks Iryna for the lovely tutorial.
By Linda Lanese
You may also like...
Comments