Aug
17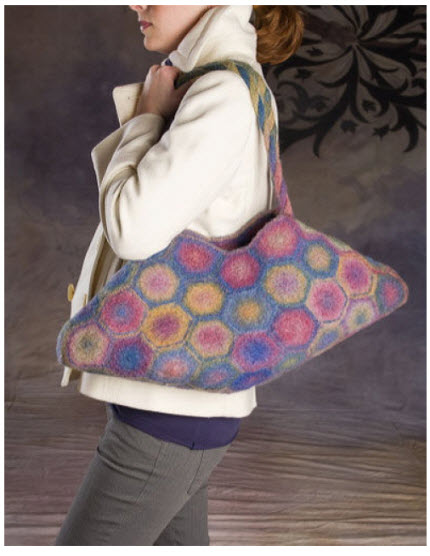 How flattering is it when someone asks you where you purchased something you created and you can answer "I made it"!   I found this stunning pattern on "Noble Knits" and it is free to download.  Use all your favorite colors and showoff your talent.  This bag is a work of art!  Fun to knit hexagons get pieced together then felted to create this gorgeous "op art tote bag". Once the bag is felted, the colors blend and it has the feel of a Monet watercolor painting. Interesting to knit and a great conversation piece!
Bag Measures
Before Felting: 18 x 31.5″
After Felting: 12 x 21″
Strap Drop Length: 10″
You will need:
Download Op Art Totebag FREE FELTED KNITTING PATTERN here
9 balls Wisdom Poems Yarn
Size US 8 and 10 double pointed needles
Size J/10 (6.0mm) crochet hook
By Linda Lanese
You may also like...
Comments