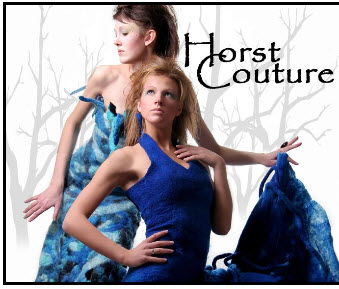 To enrich Indiana by educating each other and the public about the innovative use of "Fiber as Art" through promoting community participation in projects, workshops, exhibitions and lectures. Thomas Horst of Horst Couture is joining us to both teach and …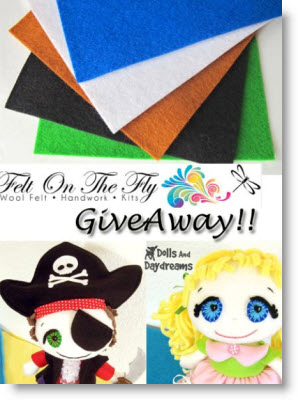 Would you like to make beautiful BIG eyed Dolls, well now you can! The wonderful Jane of "Felt On The Fly" is giving away 5 beautiful pieces of 6×8 sheets of her 100% wool Felt!  Sarah of Dolls and Daydreams …
I love these sweet little bunny magnets created in all the bright spring colors by Moxie of "Hi-Fiber Needle Felting Kits".  With Easter coming this projects will brighten up your frig.  Moxie has a wonderful tutorial for us to …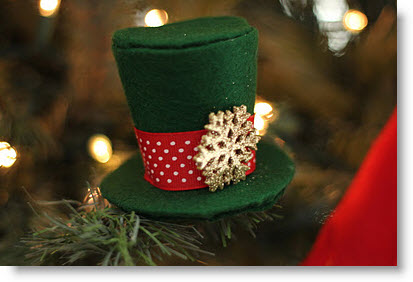 Angel of FleeceFun is taking part in "Craft Snob" Ornament Parade this year with her stunning felt top hat Christmas tree ornament tutorial.  "Craft Snob" is having a "Handmade Ornament Parade", a month long procession packed with all the …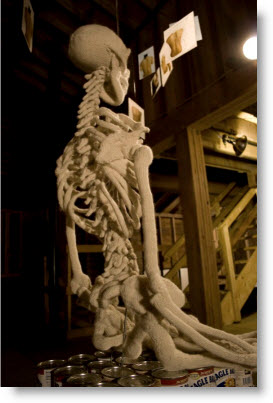 This Gnarly Knitted Skeleton is unbelievable.  Every bone appears to be perfect.  I can't imagine how long this had to take Ben Cuevas to create.  He has an amazing knowledge of anatomy and just where each bone goes and its …
Thomas Horst creates the most remarkable fashions using felt and when you look at his designs it is awe-inspiring that such stunning garments and accessories such as his gorgeous purses were created from raw wool. His sculptural approach using this …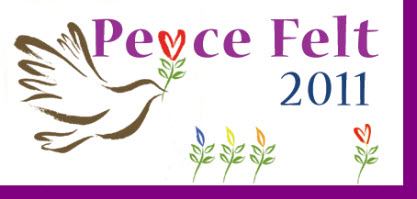 This "Circle of Peace Felt" undertaking to create peace around the world with felt sounds like an awe-inspiring undertaking that we all might think about participating in.
PEACE FELT 2011 Registration opened today!
Over 500 participants from more than …
I am pleased to announce that lucky #21 Tabitha is the winner of our book giveaway "Scrap Therapy"! I want to thank everyone that entered and there were many of you.  I wish you all could be winners.  I will …
 How exciting that a USA fiber artist is showing her art and helping an amazing cause.  (Read About Rebecca) Fiber Artist Rebecca Varon's Needle Felted Soft Sculptures to Debut in Tokyo and Raise Money for Habitat for Humanity, Japan …
Martha Stewart has an extraordinary video on her website about the Cooper-Hewitt Felt Exhibit Fashioning Felt.  There is a little history about the museum and then takes you into the modern world of felting.  Two of the designers …
This giveaway is on hold because I just got this message!
Dear Linda,
I have an emergency in the family.
My shop is put in vacation mode. Please be so kind and inform
…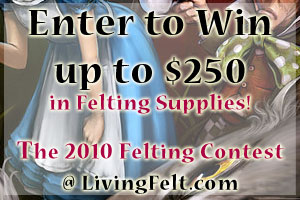 Enter your felted doll or Alice in Wonderland themed piece for a chance to win up to $250 in prizes! Our monthly challenges always support fun & felting of all levels, with prizes being given by random drawing. This year, for …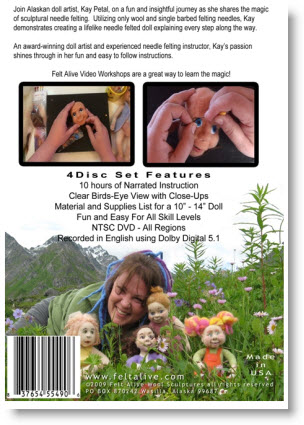 Did you ever want to join a felting class and just don't have the time or there is none in your area? Well, how about having a felting teacher in your home 24/7?  Kay Petal's in holding a DVD giveaway …
I use knit pick's yarn for many my felting knits and crochets and think it is one of the best yarns at a GREAT price.  They are having a sale on their felting yarns and I am buying several …

What could be a better reason than a child in need to buy or make a purse?  Following is explains through the short story about her Grandson, Cameron and how we can all help.  Let's help by clearing her shop …
keep looking »