Feb
23
Entries for this giveaway are now closed.
You can still enter our active giveaways
.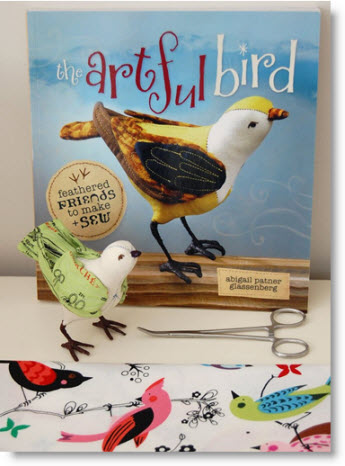 I've always been fascinated with Ann Wood's amazing birds. Every time I get a newsletter from her blog I immediately go to check out what she is doing and making from her vintage fabrics. When I saw "The Artful Bird" on Amazon available for pre-order, I immediately put it in my basket.   The author Abigail Patner Glassenberg interviews four of her favorite fabric bird makers (Ann Wood, Abigail Brown, Tamar Mogendorff, and Jennifer Muskopf) and a gallery featuring their birds. I had never really followed any of these artists other than Ann but now I find all their work fascinating.  Each has their own unique style of creating delightful and unique birds. In this book Abigail not only lays out the patterns but also gives us a lesson in the anatomy of a bird. Before you start any of the projects in this book she suggests that you read all the information in the general instruction area of the book. The patterns are printed in the book and she tells you how much you should enlarge the patterns to achieve the look she is presenting in the book. I found this book to be charmingly illustrated the pictures are outstanding and you will want to create all of her feathered friends.   Abigail shows you exactly how to assemble the birds and you will want to pay close attention to her instructions. There are 144 pages of bird sewing goodness, including 19 projects to make everything from a flamingo to a woodpecker, a swan to a wren.  Step-by-step photos to show you exactly how to make a wire armature, all different options for sewing feathers and tricks for turning and stuffing successfully.  I want to suggest that anyone that has ever been interested in creating stunning and fun birds should definitely get this book. Today I'm excited to tell you that interweave Press sent me a copy to review and giveaway to one of my readers. To enter, simply type "enter me" in the comment area. This giveaway will close at midnight on March 6th.  Good luck to all of you and I hope you will think of purchasing this book. You can go to Amazon and look through the book and see some of the projects. It is one of those books you want to come back to over and over again.
By Linda Lanese
You may also like...
Have you entered all our giveaways?
Comments