Apr
16
Entries for this giveaway are now closed.
You can still enter our active giveaways
.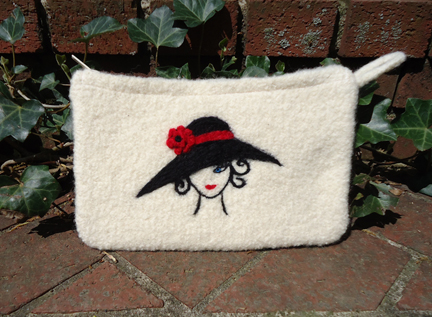 Carol Caldwell is offering everyone a chance to win her absolutely adorable knit felted and needle felted makeup/fashion bag for your mom or yourself. Carol does amazing knitting and designs most of her beautiful items. This is a makeup bag that you will not find in a regular retail shop. Carol just recently began needle felting her felted knits and is doing an amazing job. This bag was knit by her and has an inverted zipper and a loop handle; you could wear this as a fashion bag. I know I would love this bag for myself and I'm sure many of you would like it also. To enter go over to carols shop and look over what she has for sale and more importantly what she has sold and let her know what you would like to see her make and carry in her ETSY shop "CCKITTENKNITS". I love heard darling kitty scarves and skull and cross bones one and of course this bag and all her purses. Just let her know, as entrepreneurs we all want to know what others would like to buy. After you have looked over her shop come back here and in the comment area tell Carol what you think of her shop and what you would like to see her carry she would really like your feedback. This giveaway will run from today April 16, 2012 through April 24, 2012. Once a winner is selected you will have 24 hours to respond to the e-mail telling you that you are the winner.
You may also like...
Have you entered all our giveaways?
Comments