I love making things that are useful.  And useful as well as beautiful is even more exciting, as you will find with this wonderful tutorial from RosiePink.
I think I've shared a number of their wonderful tutorials now and they never fail to exceed expectations with their step by step instructions, clear photos and wonderful inspirations.  This lovely purse is a great example of something that will stretch your skills as a wet felter, but also isn't super intimidating.  I'm sure you will get excellent results when you follow along with the ladies as they create something that could be a gorgeous gift for a friend or loved one or something practical for yourself!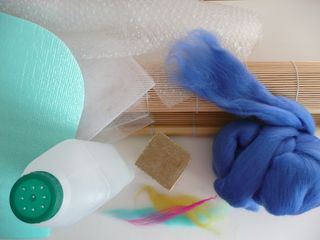 You can find their very thorough instructions at the link here, and this great project uses surprisingly easy to acquire items so you might even have most of them in your home already!
Collect up what you need and get ready for a workout for those forearms! 🙂  Wet felting keeps your arms and hands strong and supple so it's not only good for you, but you can boast that you worked out for a few hours this week!
Happy Felting!