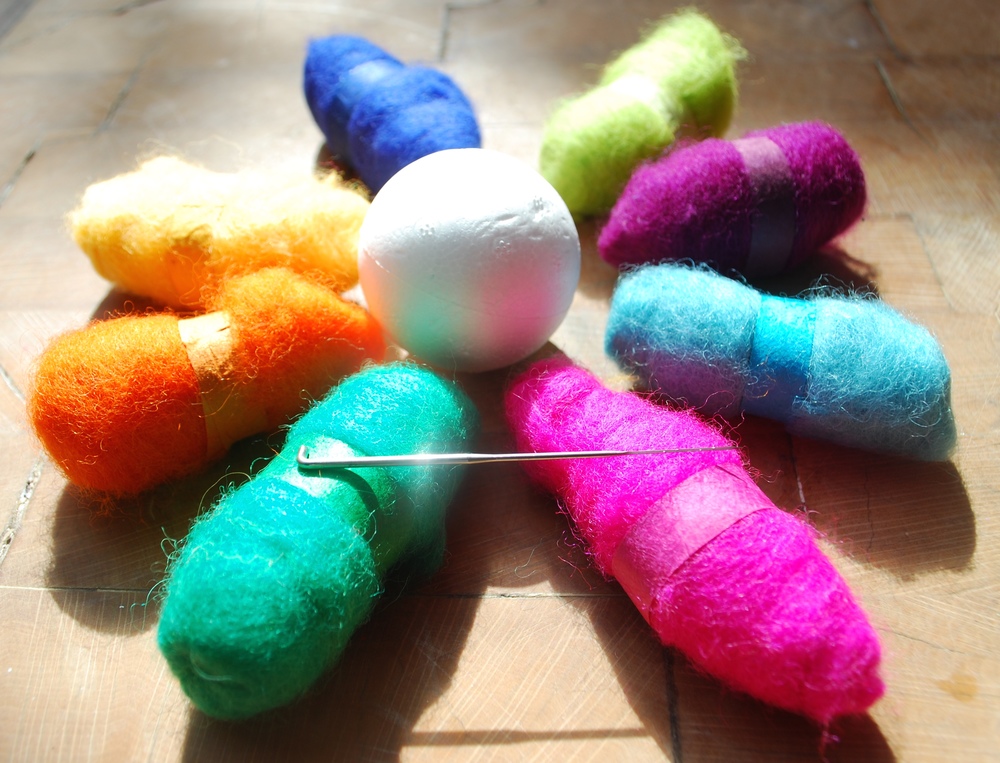 So just because something is easy doesn't mean it's not of value right?  These little decorations can be made so quick and easy you'll wonder why you didn't make them last year! 🙂
I feel like there are 2 kinds of needle felters,  either you are a polystyrene or non polystyrene kinda person.  Myself, I prefer without the poly but it certainly does make for a quick project and if they are readily available to you, they save you using up fibre which may be a bonus if it's not easy to get where you are!  Also, if you can cover a ball shape, you can cover any shape after this, so if you come across poly in other forms that you like, why not try those as well!
This tutorial right here, takes you through the step by step photo tutorial so that you can create your own Christmas decorations this year.  Make them for friends, personalise them, make them quirky.  You can decorate these any way you like, even make them into characters by adding ears etc!
You don't even need to do more felting on them once covered, get stuck in with beads, glitter, ribbon, whatever you like!  I would recommend attaching the thread to hang them more securely though, the old, 'pin in the top of the ball' trick won't stay in for long.  You couldn't wrap the poly ball with thread before you needle felt over it for a really secure attachment, just make sure you don't felt over the loop as you go!  I would get someone to help me hold it then criss cross the string like wrapping a parcel.
You could use a long needle and take it right through the ball and back, attaching a bead at the bottom before inserting the needle back in and out the top.
Or you could sew ribbon on after firmly felting the surface.
Have fun finding your personal groove with these!  I'm sure the family will love them!
Happy felting!