Mar
27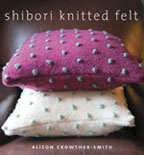 This is one book a do not want to offer in a giveaway, but I will because I want one of our readers to experience this beautiful designer book that is a graphical work of art.  The pictures and illustrations are marvelous.  We can depend on Interweave Press to publish books we fall-in-love-with.
When you go to Interweave Press you can see this preview of what is in this lovely book.  
This book is filled with outstanding designs that you will want to try.  I have done the Shibori felting before, but have seen many new techniques that I will be trying.  Unlike some book on Shibori knitting and felting this book offers projects such as wearable art, home furnishing items and lovely gifts to make.
Alison Crowther-Smith is a Rowan Yarns Designer Consultant. She has been working for Rowan since early 2005. Alison has run many teach-ins and workshops and has been commissioned to produce this book of designs for Rowan publications. Shibori, the Japanese term for manipulating fabric to create unusual textural and color effects, adds extra dimension to fibers and fabrics.  Alison tells the best felting methods to use and detailed diagrams on how to get the Shibori look for the projects shown.  When you felt your knitted wool item you have a tightly knitted piece that is so durable it will last for generation if the moths stay away.  A felted purse gives you the durability of a leather one.  Once the piece is felted, you can actually cut into the fabric to add straps and handles.  It is suggested that once felted that you use something like a knitting needle to make the holes.  Alison has given us a whole new world of Shobori in her new book and I hope that you all get excited about this book and buy it and I don't think you will be disappointed.  This book is also available at Amazon.
What a wonderful Mother's Day gift!  Giveaway Ends April 11th 2008.
You may also like...
Comments