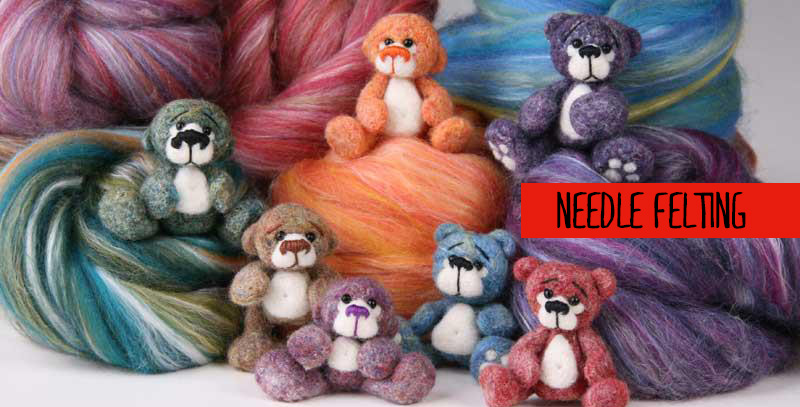 Are you new to needle felting?  Love to get a bit of insider info before you start?  You are definitely in the right place because here are some tips from the pros to get you started!
research your local stockists, find out what needles and fiber they sell.   If they don't have much get online and check out who ships to your area.  Don't be fooled by kits on AliExpress or Amazon that have lots of tiny amounts of fibre or are kits for specific projects.  Often the amount of fibre is so small it's useless or the fibre isn't even natural wool and the needles can be dubious quality.  If buying online, choose a specific fibre store, not someone who sells all kinds of things.
foam, brush or wheat bag?  What surface you want to felt on can really depend on what you want to make and how much felting you will actually be doing.  Foam does tend to break down over time but if you aren't felting most days it will probably still last quite a while, especially if you get a denser, upholstery grade foam.  If you want to mostly make flat pieces like pins and badges or things to applique onto fabric then a brush might be good for you.  Planning to felt a lot or want to make quite large projects?  You might want to buy or make your own larger mat like a wheat or rice bag.
Don't go on a spending spree!  There are so many fibers, books and quirky supplies out there and really you don't need even half of it.  Simple needles, quality fiber and something to work on is almost all you need.  Make you own needle holders to start off with, get a feel for how many needles you like to work with before you invest in a product you might barely use (google how to make felting needle holders)  And when looking at books see if you can check out the inside of the book, at least to see the index of projects before you buy.  Many books on needle felting especially don't give enough information, just a vague description and a photo of the finished object, so if you need more than that make sure you google the ones that interest you or you might even find your local library has them in stock or will get it for you.
Don't run before you can walk.  Often Newbies will get stuck into a bigger project than they realised and before long they are overwhelmed and disappointed with themselves.  Start small, if someone begs you to make them a realistic dog that looks just like theirs this should be about the 10th project not the first one you try.  I still don't like making realistic sculpts so find your niche and make sure it's fun!  I find I enjoy my work a lot more if I'm making what I want to make rather than things people want me to do.  It's a lot of pressure too!  So practice, experiment, fail and succeed before taking on requests.  You will have a much better idea of how successful you will be too.
The coarser the fibre the more quickly it felts!  If you want to get the best results for a beginner I suggest sticking with Corriedale or core fibres as they will felt down more quickly and firmly.  I took years before I started working with merino or other fine fibres.  These wools generally need the use of finer needles as well to get the best finish, so think of them as the fibre you are working toward using later on.  And even then, start with a layer over a core.  Merino is most successful for the beginner over a core rather than as the entire creation.  And if you want to work on a larger scale, using a core with a layer over merino will not only save time but save fibre as you will use much less of your more expensive merino if it's used as the outer 'skin' of the project.
I hope these pointers and bits of advice have been helpful for you!  I love to help others get through the tough parts of learning a new craft so they can really enjoy the new skills and get imaginative with what they learn!
Happy Felting!