Feb
6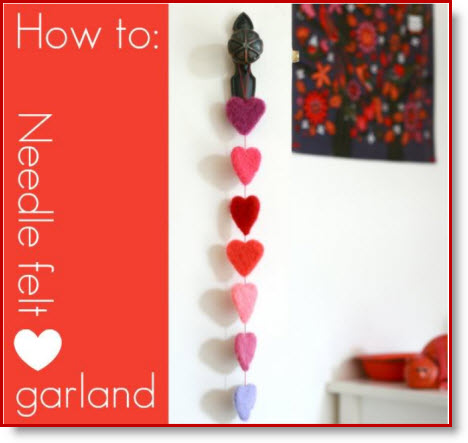 This is a very easy needle felting heart using cookie cutters can be used for many more applications than garland; like brooches, wreaths or table décor.  Cintia has been blogging on "My Poppet" since 2007.  She grew up wearing homemade clothing, helping her mum trace patterns from Burda magazines and just having a crafty good time. She discovered craft blogs. Suddenly she wasn't the only 'freak' that scoured Op-Shops for old scraps of fabric, to make her own potholders and crocheted blankets. The world of blogs gave her the confidence to make brave choices and challenge herself.
When her daughter Emma sleeps, she runs a little online shop called Poppet. Today My Poppet is dedicated solely to craft DIY projects. Tune in every Thursday for your weekly dose of crafty inspiration. You could even try using different shaped cutters for a fun assortment of different themes like Shamrocks, and Easter bunnies, stars, spots, or even little gingerbread men. You can find me on twitter @mypoppetshop  and My Poppet also has a facebook page – become a fan.
By Linda Lanese
You may also like...
Comments